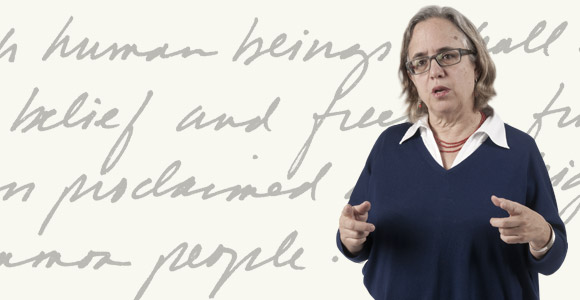 Human Beings and Citizens
In Bangkok, Cape Town, and Miami, human rights interns see theory collide with practice.
by Elizabeth Station | Photography by Lloyd Degrane
"Everyone is interested in human rights—aren't they?" asks Sam Devenport, AB'12. As a human rights intern, he spent last summer in Thailand learning about labor conditions at seafood processing plants and construction sites.
Every summer, some 30 University of Chicago students fan out across the globe to work as interns for human rights organizations, selected from a group of about 120 who apply. It might not be "everyone," but it's a growing and committed group. Since the University launched the program in 1998, 372 undergraduate, graduate, and professional students have received financial support to undertake internships in nearly 80 countries. More than half are from the College.
Human rights interns have taken on issues from housing to HIV/AIDS. They've advocated for women and for refugees at public agencies and NGOs. They may find themselves toiling behind a desk or marching in the streets—contacts, luck, and attitude often determine the mix of responsibilities, whether students land in London or Lagos.
Devenport worked for the Bangkok office of the American Center for International Labor Solidarity, an arm of the AFL-CIO. Raised in Hyde Park by an American father and a Thai mother, he spent a gap year in Thailand before college. As an intern, Devenport's language and cultural fluency gave him unusual autonomy and access. For ten weeks, he traveled around the country meeting with workers and activists to prepare reports on labor rights projects that the Solidarity Center funded. "I felt I was doing good work," he says, "and work that was difficult for me."
Migrants often face harsh living and working conditions, a fact that made the job emotionally demanding. Travel could be lonely and exhausting, Devenport says, but on the road he read Homeric criticism for his BA paper or novels by Philip Roth, AM'55, and Robert Ludlum. As a classics major he saw connections between his daytime work and evening reading: "A lot of human rights theorists have been influenced by classical philosophy," he says, citing UChicago philosopher Martha Nussbaum's scholarship on human capabilities, which has shaped global development policy.
Students must take at least one human rights course before their internship, but they say that nothing prepares them entirely for the experience. Meeting child laborers or prisoners, interns see the difficulty of enforcing international human rights standards in a local context. Talking with forced migrants, they realize the privilege that their own citizenship affords them.
"It's a very good opportunity for them to test their own hypotheses about how things should work," says Susan Gzesh, AB'72, senior lecturer and executive director of the Human Rights Program. "And they find out, as is normal and understandable, that the world is more complicated than they thought it would be."
The program's $5,000 stipend lets interns serve organizations that otherwise might not have the means to pay them. Gzesh jokes with alumni of her generation that "the College is now supporting students to do things that we would have had to drop out in order to do." More seriously, she believes the internships reflect "a new liberal arts education which makes us want our students to be not only better citizens of the United States but better global citizens."
---
REPAIRING A BROKEN SYSTEM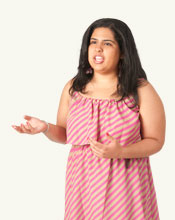 Eye-opening experiences marked Omandra Zamora's internship at Americans for Immigrant Justice, a nonprofit legal services organization in Miami (formerly known as the Florida Immigrant Advocacy Center). "I got an on-the-ground glimpse of what it means to be an immigrant, to have your rights stripped away, and how the organization was trying to help with that," she says.
Growing up in Chicago's Logan Square neighborhood, Zamora—who is half Puerto Rican and half Dominican—was always aware of immigration issues. Her family speaks only Spanish at home, yet she never felt "foreign" until she studied abroad in Paris during her first year in the College. "I could feel the distance from my family and my culture. I think that experience opened my eyes to know a little bit how it feels to be in a new country."
When she returned to campus and took a human rights course called Alien and Citizen, Zamora learned how international human rights laws might protect, or fail to protect, people who leave their country of origin to find work or safe haven. Outside the classroom, she volunteered with survivors of domestic violence in the Cook County State's Attorney's Office and tutored ESL students in Hyde Park. "I feel so rewarded and so filled when I know that I've made a difference in someone else's life, even if that difference is very small," she says.
In Miami, Zamora was assigned to the LUCHA project, which provides legal support to immigrant women who have survived domestic violence, sexual assault, violent crime, and human trafficking. Many clients are Latina, so Zamora's fluency in Spanish proved to be an asset. So did her calm, organized manner: "I was preparing the files and immigration petitions, contacting clients, and briefing them before the court—doing very direct services."
Americans for Immigrant Justice also monitors conditions in immigrant detention centers and defends the rights of detainees. Toward the end of the summer, Zamora visited two such centers in South Florida, helping attorneys to give "Know Your Rights" presentations and interview people being held. Most detainees don't have criminal records but face deportation because of immigration violations. "You could see the dehumanizing factors inside the detention center," she says. "It reminded me very much of a prison."
Zamora was surprised to be searched and questioned upon entering the facilities; she had to relinquish her ID and walk through metal detectors. "It was a weird feeling," she says. "It kept you alert the whole time." In one center, women detainees wore gray sweats and numbered bracelets. In a maximum-security facility, "they're all male immigrants, and they're coded with three colors." Detainees in blue, orange, or red jumpsuits were segregated depending on the crime they were charged with or the security threat they were perceived to represent. "You could feel the tension when you walked in," she says. "I didn't want to stay there."
Meeting individually with detainees, "we would ask them certain questions and a lot of the women would just break down and cry or share with us how they got to the United States. The stories were very sad. Sometimes we could help them, and sometimes we couldn't."
Back at the office, Zamora read through case files, scanned and shredded documents, jammed and unjammed the copier, and explained legal procedures to walk-in clients. Sometimes she got to call and tell them they'd been granted work authorization or permanent residency; such moments were the highlight of her summer. When an elderly, frail Cuban woman received permission to stay in the United States, she says, "That was great. I helped with all the translation work for that case, so it was a very rewarding experience."
"Sometimes during my internship, I would stay late, get there early, and be in front of a computer screen all day, which wasn't pleasant," says Zamora. But she was buoyed knowing that her efforts might help someone "to get relief, to get benefits, to be able to stay with their child, to get out of detention, or to stay away from a husband that was abusive."
A sociology major and human rights minor, Zamora says she's thought about being a public interest lawyer since middle school. But she plans to work for a few years before going to graduate school in social work or law. And she learned from her internship that one-on-one contact with people, even those in distressing situations, makes her happiest: "I need to spend time with my clients; I can't just be in a cubicle writing briefs all day."
The experience also showed her specific areas where immigration policy needs repair. She criticizes, for example, the quota system that limits the number of visas awarded to immigrants who are victims of domestic abuse and crimes such as human trafficking. Laws that force parents to be deported while their US-born children stay behind are also a problem. "In some ways," she says, these make the child "a victim who has no fault, and it separates families."
"I think there's a lot of room for improvement," she says matter-of-factly. "It's a broken system, and for the good of everyone, some changes need to be made."
---
PROTEST REMIXED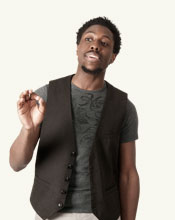 "I love mixing civic education with politics—that's my world; that's what I'm comfortable with," says Jonathan Lykes with a smile. He felt especially comfortable at Equal Education, where he worked as an intern in Cape Town, South Africa, in summer 2011.
Six months before his internship, Lykes had studied abroad in Cape Town and volunteered at the organization. He had seen firsthand how in the vast township of Khayelitsha, public schools often lack such basic infrastructure as books, windows, electricity, and water. Poor schools are overcrowded and understaffed, while those in wealthier Cape Town districts have top-notch classrooms, computers, and libraries.
Such racial and class disparities resonated with Lykes, who is African American and graduated from a struggling public high school in Ohio. "I didn't come from privilege," he says simply. "A large percentage of my neighborhood in east Cleveland was boarded-up houses. Less than half of the people graduate from my high school."
Equal Education began pressuring the South African government to establish minimum norms and standards for public school infrastructure in 2010. Young people have taken an active, lively role in its advocacy campaigns. To dramatize the poor condition of their schools—and get the attention of top government officials when letter writing and other tactics failed—high school students proposed a sleep-in outside the Parliament building.
Just days after he arrived for his internship, Equal Education asked Lykes to co-organize the sleep-in and lead a civil disobedience workshop to help students prepare. Lykes felt excited by the challenge. As a political science major, he had studied the American civil rights movement and the Student Nonviolent Coordinating Committee's galvanizing role in protests. He'd been a youth organizer in Ohio and at UChicago, cofounded a group that encouraged South Side high school students to tackle social issues through the arts.
Lykes is outgoing and charismatic. A musician and spoken-word poet, he can capture the room at a political meeting or a poetry slam. But camping out with teenagers in front of Parliament was new territory. "I had never participated in an act of civil disobedience before," he admits. "I really didn't want to get arrested but I knew it was a possibility."
Before their protest, the Cape Town students obtained permission from the police to stage a daytime demonstration only. Defying the order, they slept for two nights outside Parliament. "We got blankets from the Salvation Army and put up tents in front of the building," says Lykes. "During the day we were singing, handing out pamphlets, trying to get the word out, encouraging the students."
The protest stayed peaceful, no one was arrested, and the remaining weeks of his internship were less dramatic. Lykes participated in teach-ins and events to press for minimum norms and standards—which led to legal action against the Ministry of Education—and assisted Equal Education with grant writing. Overall, the experience gave him "a freshness, an understanding of what organizing, protesting, and building a movement are all about."
Lykes also translated the lyrics of protest songs from Xhosa and Zulu to English. "In South Africa, I saw the power of music on the ground and how their movement was lifted by it," he says. He was moved to learn that high school students had rewritten and remixed songs that their parents and grandparents sang during the anti-apartheid years. They took the anthem "Senzenina," for example, and added the words "My education is poor and painful" to the refrain "What have we done?"
In summer 2012 Lykes will return to Cape Town to teach spoken-word classes, launch an Equal Education youth choir, and record students' songs with a grant from the Davis Projects for Peace. After that he'll come back to UChicago to finish a master's in social work, focusing on education policy.
Long-term, Lykes wants to continue supporting students to organize and protest for better public schools. "The rest of the education, job opportunities, and access you receive—on every level for the rest of your life—can be tied to the education that you receive in high school," he believes. But if political protest, community organizing, and the arts could be connected in the United States as they are in South Africa, "I think we could see a new youth movement in America that could actually bring change."
Lykes says he's motivated by his own high-school-to-college experience: "I didn't receive an equal education, and I only realized that after I came here and was behind all my classmates and had to catch up frantically." Caring teachers and community organizations helped him succeed, "but overall our educational system is failing so many people."
"Seeing how people live and inequalities that are entrenched and systemic can be discouraging," he adds. "But I'm encouraged by people's resilience, by how, as much as people struggle, they persevere—in the townships of South Africa and on the South Side of Chicago."