School of thought
Is there such a thing as a bad teacher? Should children be allowed to play the lottery? In Winning Words classes, kids pose the questions and struggle with the answers.
David L. Hoyt, AB'91 | Photography by Drew Reynolds
At 3:15 on an October afternoon, Sage Gerson, '13, pushes desks together. Vanessa Corbin's fifth-grade classroom at Beulah Shoesmith Elementary—home of the yellow-shirted Beulah Bees and site of Barack Obama's 2008 polling place—now looks more like a seminar room.
Nestled to one side of leafy Kenwood Community Park, the school is surrounded by Victorian row houses and mansions—although most of the affluent families nearby do not send their children there. The student population at Shoesmith is 85 percent low income, 95 percent African American. On the wall of room 200, a large red construction-paper poster reminds students: "NO EXCUSES."
Twice a week for the past four years, Gerson has taught an after-school philosophy program, Winning Words, in Corbin's classroom. Corbin, who has 25 years of teaching experience, lingers in the background and helps control the chaos if necessary. It usually isn't.
The small group of fifth graders that joins Gerson in room 200—five girls and one boy—are visibly eager. Gerson, an English major and environmental-studies minor, offers a recap on Socrates and his method: "Because we've lived our lives and have had experiences, we have opinions. The Socratic method helps you get closer to an answer that is true, the ultimate truth. You don't go into these things knowing the right answer."
The students remember Socrates from the previous session. They have more trouble recalling the meaning of the word philosophy, though young Stormi (who describes herself as someone who "already gets good grades") knows that dinosaur springs from the same language as the love of wisdom.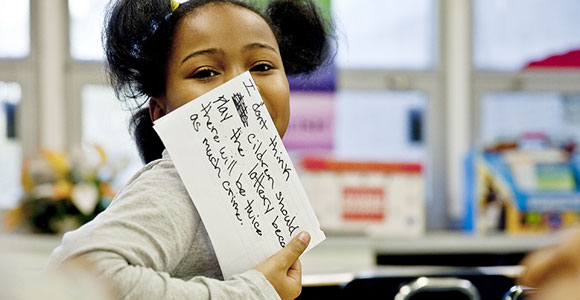 Gerson asks her students to pick a word, stand up, and define it. Michael chooses leader, which he defines as someone who takes school seriously, as opposed to being a follower and hanging out on the street. He concludes with an exhortation that sounds like something he's been told many times: "Get off the street! Be a leader!"
Already the students have learned not to accept such statements without questioning. "I hear you, but I still don't understand what you're saying," Jori says. Stormi points out that going to school involves a lot of following: "Are you still considered a leader or a follower?"
Later it's Gerson's turn. She picks loyalty, defining it as "caring about someone, standing up for them, and being committed to their general well-being." The discussion revolves around interpersonal relations before turning to political loyalty—the example of Socrates is unspoken, but never far off—and then veers abruptly into uncomfortable territory.
Gerson: Do you guys think that if you're not loyal to your country you should be punished?
Jahari: Yes.
Gerson: Why?
Jahari: I don't know that answer yet.
Sydney: I don't think you should be punished for it because that was what Martin Luther King fixed for us, and being punished is being all messed up again.
Gerson: Sydney has a great point. People who disagree with their country—do you think they're being loyal by disagreeing, or are they being disloyal?
Stormi: I think it's kind of in between.
Sydney: Yesterday I went to my grandma's house, and it was this group of kids just fighting. It didn't really make sense to me because they were the same race, and they were all from the same neighborhood. Do you think that people turning on people that you know is being disloyal?
Gerson: I definitely think that's disloyal. I think a good example is civil rights. Think about if African American citizens during the '60s had decided to fight each other, they wouldn't have gotten anything done. The reason they accomplished so much was that they were unified. The issues of loyalty and punishment elicit stories of violence observed by several of the students. Michael follows with a similar but unrelated anecdote:
Michael: I want to add to what Sydney said. We heard screaming outside the window so we looked outside. It was a man beating her and he threw her on the ground, and I don't understand why he was doing that. Then they walked to the car, and he started grabbing her hair.
Gerson: I don't really know. Those are great stories. I think that that transcends loyalty and disloyalty.
Thus are several hot potatoes lobbed to the middle of room 200 in just a few short minutes. They are left there to cool off and be swept away by the custodian.
Men of winning words
Winning Words was founded as a philosophy after-school program by Bart Schultz, PhD'87, senior lecturer in philosophy and executive director of the University's Civic Knowledge Project, in 2008. The program's name, he explains, came from Robert Fagles's translation of the Iliad and the Odyssey: "Odysseus and Nestor are both described as men of 'winning words,' referring to their persuasive abilities."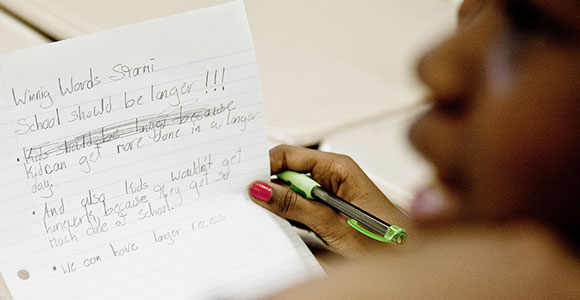 Undergraduate (and some graduate) mentors lead sessions at more than 15 sites on the South Side, including elementary schools in Hyde Park, Kenwood, Englewood, and Woodlawn. One Winning Words mentor, Josh Kim, '13, works with students at Englewood's Seventh District Chicago Police Station, as part of the Saturday University, run by a South Side community organization, the Black Star Project. In the coming years, Schultz hopes to expand Winning Words to other sites in Englewood, South Shore, and Grand Crossing.
The program has a complicated origin story. Indirectly, it grew out of a College course on happiness that Schultz taught in 2002. The course received so much attention, a major foundation expressed interest in establishing a happiness institute on campus. Schultz eventually decided not to submit a proposal, but the grant-writing process inspired him to think about teaching philosophy to middle schoolers.
Around the same time, Schultz served as faculty adviser to a short-lived student club, the South Shore Urban Debate Project, which ran an after-school program. In 2007 the Civic Knowledge Project took over the after-school program, dropping the focus on public policy—which closed off other interesting discussions—and replacing debate with Socratic dialogue. "Debate itself is designedly adversarial," says Schultz. "We wanted to have meaningful cooperative conversations, to have a joint search for truth."
In any given session, destabilizing questions or observations often come from the students—but not always. Kim, a double major in economics and philosophy, makes a point to work it the other way around at the Englewood police station. "It's so interesting to do philosophy in these places," Kim observes. "In a safe neighborhood, if you talk about MLK and nonviolence, the students would have no problem with it. In these neighborhoods, the students say, 'I don't think that's right.' It allows a really rich discussion."
A central feature of Winning Words is its focus on public speaking and the confidence that comes from honing oratorical skills. Shayan Karbassi, '14, a double major in international studies and political science, points out that Winning Words provides "the chance to be heard." One of his favorite exercises is to ask his students, in the spirit of education reformer John Dewey, to design their ideal school. Debate on the subject is spirited: Should there be recess? Does a school uniform serve a greater good or infringe on individual liberty? These questions have never been posed to them. In the Chicago Public Schools, Karbassi says, "students don't normally get a chance to discuss and have their participation be their assessment. I usually have students who are quiet, and it's really fulfilling to note that by the end, they are comfortable speaking in front of a classroom and saying what they have to say."
In the spring of 2012, Karbassi and Kim brought students from Carnegie and Parkside elementary schools to the annual conference of the American Philosophical Association in Chicago, where the students carried out model discussions. "I was worried that they would be quiet," Karbassi recalls, "but they weren't. Not at all. I told them, 'Just keep your eyes on me, focus on me, and act like it's a normal class.'"
In front of 40 or 50 academic philosophers, Karbassi kicked off the discussion with the question, "What is justice?"  Justice is punishment, came one answer. "Why is it punishment?" Karbassi asked. A third grader refuted the first answer: Justice can't only be punishment, because the punishment has to be equal to the crime. The third grader had introduced the idea of proportionality. "You could just hear the 'oohs' and 'aahs' from the crowd," Karbassi says. The experience was as uplifting for the adult philosophers as it was energizing for the elementary-school students, says Schultz. "It reminded [the adults] why they got into philosophy in the first place."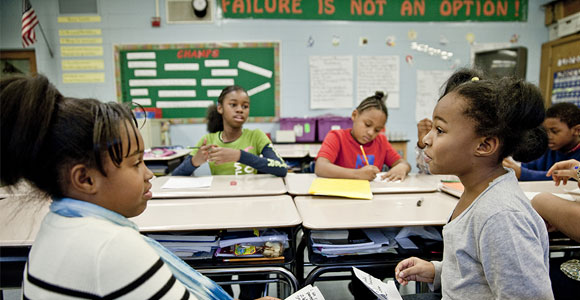 The Chicago Tribune ran an article about the students' conference appearance, quoting the discussion at length. In the fall of 2012 Winning Words was awarded an annual prize, cosponsored by the American Philosophical Association and the Philosophy Documentation Center, for excellence and innovation in philosophy programs.
Open-ended questioning
So what effect is Winning Words having on CPS grade schoolers? No one can really say. Students are not tracked during or after their participation, and their College mentors—still students themselves—are given little training before they walk into the classroom.
Kim, who is considering postgraduate studies in education research, admits that his own enthusiasm comes up short on hard data: "We can't show you the results and say, 'This is a program that demonstrates achievement.'" From the perspective of hard-nosed empirical research on after-school programs, Charles Payne, an education expert in the School of Social Service Administration, points out that "getting kids to play with words, in any kind of serious way, including debate and oratory, [has] a good track record in the research"—at least where the programs are "well executed and have been around for a while."
There is no doubt that the students enjoy the open-ended questioning and oratorical training. It's hard to miss the enthusiasm about education that Winning Words generates among its participants. Both education research and philosophy agree that it is on such foundations—students' aspirations to educate themselves by questioning the world around them—that knowledge is built. The students' aspirations come through in their willingness to ask questions of each other and, as in ancient Athens, to ask questions that anyone in a position of authority may not want to hear. 
Break it down
The Shoesmith students meet Gerson for their second session of the week on another splendid October afternoon. Through the classroom's second-floor windows, the turrets and peaked roofs of Victorian brownstones hide behind fall colors.
The class continues with the forensic exercises of the previous session. Jahari picks the word teacher—a tricky choice because teacher Corbin, as always, is present.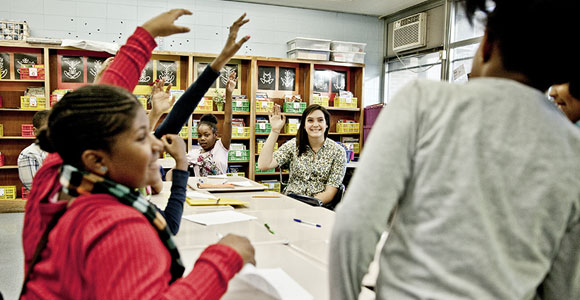 The conversation is by turns frank and guarded, as the students search for a comfortable register to discuss the adults who have so much power over them. Little more than a month after the first Chicago teachers' strike in 25 years, the children dance around a question that polarized the city: Is there such a thing as a good teacher or a bad teacher?
Jahari: I think a teacher is a person that helps and teaches a student.
Gerson: Can you define the word teacher without using the word teach?
Jahari: A person who helps and directs students?
Gerson: OK, very good.
Sydney: Do you think your teacher is a good teacher?
Jahari: Yes. [A pause, then laughter.]
Ms. Corbin: I have a question. What makes you think I'm a good teacher?
Jahari: I think Ms. Corbin is a good teacher because she doesn't just give us work and tell us to do it; she actually explains the question.
Jhori: Oh yeah, she does break it down for us.
Sydney: My aunt works in a facility where they help these young women get off the streets and stuff. And do you think that my aunt could be considered a teacher?
Jahari: Yes.
Stormi: OK, my question is, are all teachers good teachers?
Jahari: It depends what teacher I'm talking about.
Gerson: I think Stormi's question is more, if you're a teacher, does it mean you're a good teacher, or can you be a bad teacher? Is there such a thing as a bad teacher, and what makes a good or a bad teacher?
Jahari: I actually don't know if there's such things as bad teachers.
Michael: I think there is.
Jahari: Such a thing as bad teachers! Sometimes, sometimes a teacher can be a bad teacher. It's like, in third grade we had a teacher named Ms. —, she'd tell us to shut up.
Sydney: Yes! I remember her!
Michael: Oh my God, I hated that teacher.
It's clear after only a few sessions with the Winning Words contingent at Shoesmith that "students have a voice," as Schultz, the program's director, says. They have "valuable thoughts to share, and we want to hear them and talk together." The half-dozen children enrolled in Winning Words at Shoesmith seem to not only to have found their voices but their chance to speak the truth of their experience—at least up to a point. They may be the most radical of philosophers.