Top eight
Defunct Hyde Park restaurants
Valois. The Med. Jimmy's. Some establishments have defined the Hyde Park dining scene for decades, providing a common backdrop for experiences that unite University of Chicago alumni across generations.
Ingrid Gonçalves, AB'08
---
The eateries below may be gone for good, but they live on in the memories of those who savored their fare. Item 174 on this year's Scav Hunt list calls for students to cook up their own knock-off Ribs 'n' Bibs rib tips, Calypso plantain nachos, and Dixie Kitchen johnnycakes. "Never forget. [6 points each]."
Station JBD (1944–80)
55th Street and South Shore Drive
Doctors, lawyers, and professors numbered among the loyal regulars of this long-lived neighborhood fixture, whose original location on Hyde Park Boulevard featured round red booths that the Hyde Park Herald described as "plump and ornate." Owner Buss Barton was known for his friendly rapport with patrons and staff.
The Agora (1972–86)
57th Street and Kenwood Avenue
A popular hangout for UChicago students, this coffee shop was inspired by the Athenian agora where Socrates met with fellow thinkers. The menu included American food as well as Mediterranean specialties such as dolmas, broiled sea bass, and baklava.

After the Agora closed, its former location welcomed a string of short-lived businesses—Prairie City Diner (1987–89), Ann Sather's (1989–94), Eddie's Collage (1994–95), Lulu's "dim sum and then sum" (1996–99), and Guiseppe's Hot Italian Subs (1999–2000)—before Noodles, Etc. finally broke the streak, occupying the space for 15 years and counting.

Detail of a photo from a postcard promoting Hyde Park's House of Eng. (Art courtesy Cardboard America)
House of Eng (1968–87)
53rd Street and Hyde Park Boulevard
This upscale Chinese restaurant boasted sweeping views of Lake Michigan from the penthouse level of the former Del Prado Hotel, where it moved from its original location by the Drake Hotel on the Magnificent Mile. The space now contains four luxury apartments and some office space.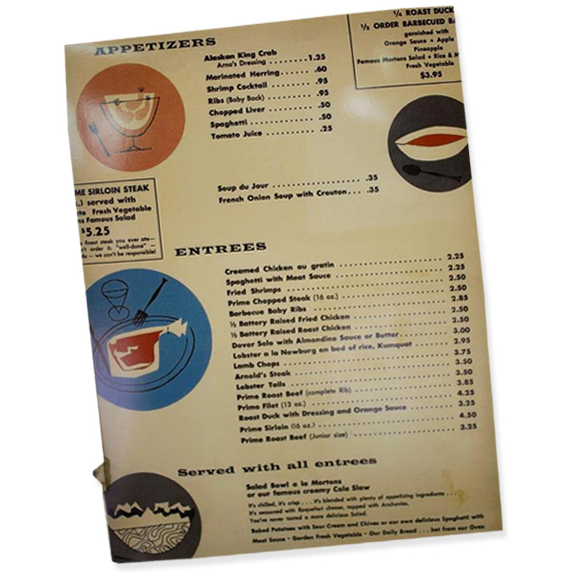 A page of the menu from Morton's, which opened in 1932 and was located at 5487 Lake Park Avenue. (Photo by Emily Wang, AB'14)
Morton's (1933–71)
55th Street and South Lake Park Avenue
Owned by the father of the Morton who eventually opened the downtown steakhouse chain, this family restaurant promised to excite the appetite of the discerning connoisseur with entrées such as filet mignon, roast duck, and baby back ribs. Morton's sauces and dressings were sold nationwide.
Ciral's House of Tiki (1962–2000)
53rd Street and Harper Avenue
A stuffed puffer fish and wicker monkey fit right into this neighborhood bar's red-lit tropical-style décor. A scene from the movie The Package (1989) was set there. Ciral's was one of the first establishments on 53rd Street to welcome African American patrons.

Dixie Kitchen, 2007. (Photography by Eric Allix Rogers, AB'05, CC BY-NC-SA 2.0)
Dixie Kitchen & Bait Shop (1994–2009)
53rd Street and Harper Avenue
The menu at this Louisiana-style comfort food mecca featured a tempting smorgasbord of fried foods. Johnnycakes and honey butter were served as a free appetizer. In case you're ever in Lansing, Illinois, there's another Dixie Kitchen there, though it operates under different ownership.
Calypso Café (1997–2011)
53rd Street and Harper Avenue
Even in the grayest depths of a Chicago winter, this bright, kitschy Caribbean restaurant served up a taste of the islands, with its perpetually circulating thatch ceiling fans and reggae beats. Popular menu items included fish in a bag, jerk chicken, and key lime pie.

Run by the same owners, both Calypso and Dixie Kitchen were part of the former shopping center at 53rd Street and Harper Avenue that opened in 1965. The new Harper Court opened half a block east in 2013 and houses several new restaurants, including Chipotle, Native Foods, Porkchop, and Ja' Grill, as well as the 12-story office building where this publication is produced.
Ribs 'n' Bibs (1966–2014)
53rd Street and Dorchester Avenue
Mystery surrounds the sudden closure of this wood-paneled hole-in-the-wall barbecue joint. A guilty pleasure for students and community residents, it appeared in Tyler Perry's Meet the Browns (2008).

Hyde Park Taco Station recently opened in its place. Despite the vegan options and modern décor, most alumni will find their food lacks that bittersweet flavor of nostalgia.