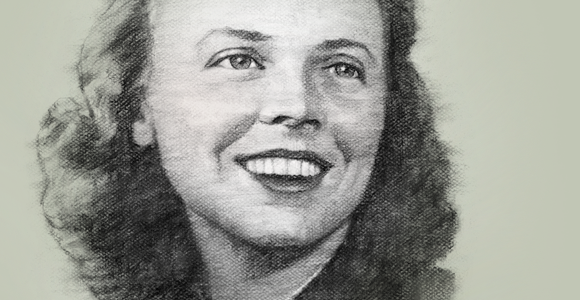 Outliers
Across enemy lines
For author and Soviet spy Martha Dodd, EX'30, both of her careers began in Nazi Germany.
Carrie Golus, AB'91, AM'93
---
In 1933, six months after Adolf Hitler became chancellor of Germany, Martha Dodd, EX'30, moved to Berlin with her parents. Her father, William Dodd, chair of the University of Chicago's history department, had been appointed ambassador by President Franklin D. Roosevelt, and he invited his grown children—Martha, 23, and Bill, 27—to join him.
Martha, like her brother, accepted the invitation, giving up her job as assistant literary editor at the Chicago Tribune and abandoning her brief, unhappy marriage. "I had to choose between him and 'adventure,' and you," she wrote to her estranged husband, George Bassett Roberts. "I couldn't help making the choice I did."
The story of Ambassador Dodd and his family had been all but forgotten until Erik Larson (a College parent) published In the Garden of the Beasts: Love, Terror, and an American Family in Hitler's Berlin (2011). Martha Dodd's career as a spy had previously been detailed in two books on espionage: The Haunted Wood and Venona: Decoding Soviet Espionage in America, both published in 1999.
Dodd had no particular interest in politics, and at first she found Nazi Germany charming and exhilarating; she had studied in Paris and strongly preferred the Germans to the French. She wrote to her friend Thornton Wilder, who was teaching at UChicago at the time, "The youth are bright faced and hopeful ... good, sincere, healthy, mystic brutal, fine, hopeful, capable of death and love, deep, rich wondrous and strange beings—these youths of modern Hakenkreuz [swastika] Germany." When a Tribune correspondent based in Berlin told Dodd about the violent suppression of Communists and Jews, Dodd—like many other Americans at the time—thought she was exaggerating.
With no job or other responsibilities, Dodd threw herself into the city's social whirl. She attended literary salons, lingered in grand cafés, and danced to jazz—a style barely tolerated by the Nazis—in nightclubs. It was a Berlin that was rapidly disappearing under Gleichschaltung, "coordination," a policy intended to bring every aspect of German life into line with Nazi ideology.
Through journalist friends, Dodd met her first senior Nazi, foreign press chief Ernst "Putzi" Hanfstaengl, whose son was Hitler's godson. Impressed by Dodd, Hanfstaengl, a Harvard graduate, wanted to introduce her to the Führer: "Hitler needs a woman," he said, according to her memoir Through Embassy Eyes (1939). "Hitler should have an American woman—a lovely woman could change the whole destiny of Europe. Martha, you are the woman!"
Curious, Dodd agreed to meet Hanfstaengl for tea at the Kaiserhof. Soon Hitler and his entourage came in. Hanfstaengl brought Dodd to Hitler's table, where he kissed her hand and murmured a few words. His face was weak and soft, Dodd wrote, but his eyes were "intense, unwavering, hypnotic." She did not remain at his table for long—having lived in Berlin just a few months, she knew little German—but was struck by his "quiet charm, almost a tenderness of speech and glance," and his "appealing helplessness."
Dodd never spoke with Hitler again, though she saw him regularly at social events and the opera, and sat near him in the diplomatic box at the 1936 Olympics. "I believe that Hitler is completely asexual," she wrote in her memoir.
She did have liaisons with other Nazis, including Ernst Udet, a senior Luftwaffe officer, and Rudolph Diels, the first head of the Gestapo. Prince Louis Ferdinand Hohenzollern, grandson of the deposed Kaiser, was another of her lovers; she attended family celebrations and formal balls at the palace in Potsdam, outside Berlin. She overcame her dislike of the French enough to see Armand Berard, a French diplomat. She also dated Jewish men, noting that when they went out, she felt "the sneers of the crowds, the mutterings and under-the-breath insults." Although the diplomatic community in Berlin found Dodd's behavior shocking, her parents put no restrictions on her behavior.
The most significant of Dodd's lovers was Boris Vinogradov, first secretary of the Soviet embassy. As Dodd discovered later, he also served as an operative for Soviet intelligence, the NKVD, precursor to the KGB.
Dodd, as the daughter of the US ambassador, was protected personally from Nazi aggression, but she could not ignore how it affected the literary community. She had hoped to meet famous German writers, but they had already fled; those who did not escape were imprisoned or put into concentration camps. By the spring of 1934, after Hitler's violent purge of members of his own party, "I was as opposed to the system of National Socialism as I could be," Dodd wrote. Around this time she began to spy for the Soviet Union, passing on information from her father's private conversations. One NKVD directive requested that Dodd, code-named Liza, send summaries of her father's reports to Roosevelt; in particular they desired intelligence on Germany, Poland, and Japan.
Ambassador Dodd, who had critics in the United States as well as in Germany, was recalled by Roosevelt in 1937. Soon after the family's return, Martha Dodd met and married Alfred Stern, an investment broker. Martha wrote to Vinogradov to tell him of her marriage, but by the time her letter arrived, he had been executed in one of Joseph Stalin's purges. Martha did not find out until years later.
The Sterns lived in a luxurious Midtown Manhattan apartment with two servants, a driver, and a personal secretary; nonetheless, Martha continued to spy for the Soviets. "She considers herself a Communist and claims to accept the party's program," read one NKVD dispatch. "In reality, 'Liza' is a typical representative of American bohemia, a sexually decayed woman ready to sleep with any handsome man."
Martha Dodd Stern recruited her husband, an active member of the Communist Party, to join her espionage work. His main contribution was to invest in a music publishing house, code-named Chord, that served as a cover for Soviet spies.
In 1939—the year the Nazis invaded Poland, beginning World War II—she published her best-selling memoir. She omitted the names of close friends, hoping to protect them, but included devastating descriptions of high-ranking Nazis. (Of propaganda minister Joseph Goebbels, who stood five feet tall and had a deformed foot: "If there were any logic or objectivity in Nazi sterilization laws Dr. Goebbels would have been sterilized quite some time ago.") Germany promptly banned the book.
At the end of the war, Dodd, who used her maiden name professionally, published a novel, Sowing the Wind (1945). Based on the life of her former lover and World War I ace Ernst Udet, the novel told the story of his corruption by Nazi ideology.
The postwar years were not kind to the Sterns. In 1953 the House Committee on Un-American Activities subpoenaed the couple to testify; instead they fled to Mexico with their adopted son, Robert. When they were indicted for espionage, they paid a $10,000 bribe to acquire Paraguayan passports and escaped to Prague.
But the Sterns were lonely and unhappy in Czechoslovakia. They struggled with the language and grew disillusioned with communism. When Robert was diagnosed with schizophrenia, Dodd Stern blamed the stresses of exile for his illness. The Sterns spent most of the 1960s living in Cuba, eventually returning to Prague.
In 1979 a federal court cleared the couple of all charges, citing lack of evidence and the deaths of witnesses. But still the Sterns could not return. They had not paid taxes during their decades of exile; the accumulated debt was enormous.
After her husband's death in 1986, she wrote to friends, "Nowhere could be as lonely for me as it is here." Martha Dodd Stern, who had described herself in her memoir as "young and reckless," died in Prague in 1990 at age 82.