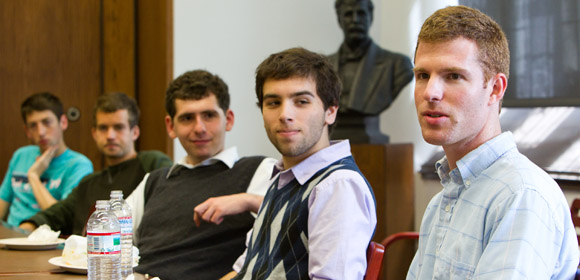 Beyond the Quads
Getting the Story
Pulitzer Prize winner Daniel Gilbert, AB'05, makes
big-time news at a small-town paper
In October 2008, Daniel Gilbert, AB'05, a young reporter at the Bristol Herald Courier in Bristol, Virginia, got a tip. The reader who contacted him described a complicated issue involving underground natural gas, an escrow account worth millions, and an obscure government body called the Virginia Gas and Oil Board. "She was telling me a lot of things and I didn't know what she was talking about," Gilbert recalls. But he understood enough, he says, "to make my journalistic antennae go up."
Thirteen months later, the Herald Courier published Gilbert's eight-part series detailing how the state was mismanaging natural-gas royalties owed to thousands of small landowners. The series attracted widespread attention. This April, Virginia's governor signed new legislation designed to make it easier for landowners to collect what was owed them. And in May, Gilbert and the Herald Courier received a Pulitzer Prize for public service reporting—the first in the paper's history and one not usually bestowed upon papers so small.
"People were stunned," says Gilbert, who was in the newsroom working on a story when he heard the news. "It was not the cheering scene you see in a lot of photos. It was like, 'What?'"
Gilbert took a crooked path into journalism. He didn't read newspapers until his third year at the University of Chicago, when he joined the Maroon staff as a reporter. After graduating he applied unsuccessfully to the U.S. State Department. Fluent in Spanish, he covered immigration and other local issues for the Potomac News in northern Virginia. He then spent half a year freelancing on the U.S.–Mexico border, traveling from Brownsville, Texas, to San Diego and hoping that so enterprising a project would impress editors and land him a job at a big paper. It didn't.
So Gilbert took the next best opportunity, covering legal affairs in Bristol, a town of 42,000 that straddles the Virginia-Tennessee border. He wasn't sure he wanted the job, he says, but he "didn't have anything else to do."
The Herald Courier was not a bad place to be. Although the paper has a circulation of 30,000 and a reporting staff of seven, it prides itself on what managing editor J. Todd Foster calls "watchdog journalism"—investigative reporting that attempts to hold government and government officials accountable. "It's the most meaningful form of journalism there is," says Foster. "It's the thing that will save journalism because no one else can do this."
The problem of gas royalties had festered for years without much attention. Gilbert traveled extensively into Virginia's coal country, a hilly region of small towns and twisting roads. He interviewed frustrated landowners who were fighting to get royalties from natural gas that big energy companies were pumping from beneath their land. He visited remote county courthouses, where he rummaged through case files that sometimes filled a shelf. He made more difficult forays into the legal and bureaucratic tangle that surrounds mineral law in Virginia. At one point he was so stumped that he persuaded his editor and publisher to send him to a six-day "boot camp" for investigative reporting at the University of Missouri. The training helped him to conclude from state records that energy companies were underpaying royalties.
Gilbert's biggest challenge was just finding time for the story. Large newspapers keep stables of reporters who spend weeks and months pursuing investigative projects. Gilbert had to steal hours and days from his daily work covering murders, Easter egg hunts, and other local news. "Every moment I could spare for it was borrowed from something else I had to do," he says.
Gilbert is tall, red-haired, and unassuming. "When I first met Daniel, I never dreamed it would lead to what it did," says Jamie Hale, a truck driver from Haysi, Virginia, and one of Gilbert's principal sources. "I just took him as a shy, timid type. He's actually a real fireball. He surprised me. He really took the time and did the research and footwork to get all the facts."
After the prize was announced, Gilbert and his paper heard from a lot of journalists at other small newspapers around the country. To many of them, the prize was a vindication of small-town journalism and a measure of its possibilities.
"It's finding a good story and then going after it with tenacity and creativity," says Sig Gessler, administrator of the Pulitzer Prizes and a former editor of the Milwaukee Journal. "You don't have to have the resources of the Washington Post and the New York Times. You can find a story that's important to your city, your community, your county and state, and you can really go after it. You can compete with the best of best."
The story wasn't over. By May, Gilbert had published two dozen follow-ups. He says he doesn't plan on quitting any time soon—either leaving the paper or giving up on the story. "I think that's what the state was counting on—that we would do the eight-part series, pat ourselves on the back, and let it go," he says. "But they were wrong."
Last month, the landowners still hadn't received their money. But Gilbert's work had given them new hope that someday they might. "He's done so much for this area," said Hale. "Without those articles, the word still couldn't be out. He got our story out." —Richard Mertens