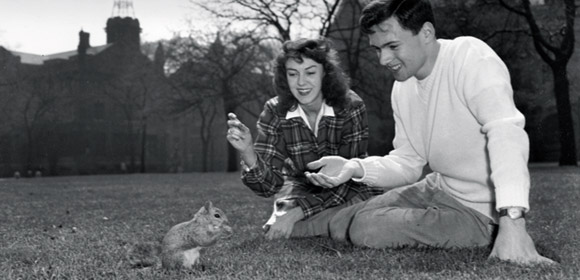 Marginalia
In a Nutshell
Feeling nutty? Enter the Core's new photo caption contest.
Photo courtesy of the Special Collections Research Center
For decades, the archivists at Special Collections Research Center have squirreled away photographs of University life. In honor of SCRC's new digital database, the Core announces a caption contest. Can you do better than this?
Newly discovered photographic evidence reveals that campus squirrels and students show similar levels of cuteness, aggressiveness.
Yes, we thought you could. Submit your suggestions to uchicago-magazine@uchicago.edu. The nuttiest caption, as judged by Core staff, will net its writer a $50 gift certificate to the Seminary Co-op Bookstore and a piece of squirrel apparel. The second-place entry will just get the tiny underpants.