Beyond the Quads
Unclean Break
Alumna Swati Avasthi's work at a domestic violence clinic inspired her hard-hitting young adult novel.
By Katherine E. Muhlenkamp | Photograph by Ann Marsden
As a teenager in the mid-1980s, author Swati Avasthi, AB'93, almost never read young adult fiction. She enjoyed S. E. Hinton's The Outsiders and Lois Duncan's suspense novels, but many YA books, she remembers, included superficial characters and pat, preachy endings.
It wasn't until she was a full-fledged adult and mom that Avasthi gave YA a second chance. As her young son perused the shelves of a Minnesota children's bookstore, the cover image of a YA novel struck her: an adolescent female face obscured by a single tree branch. On the bookseller's recommendation, she bought and read the book, Laurie Halse Anderson's Speak, about a 14-year-old rape victim. Avasthi was stunned at its sophistication and depth: "It was much more powerful than the type of fiction I was handed at age 16," she says. "I wouldn't have known how the genre had evolved if I hadn't jumped back into it."
When Avasthi started working on her first novel approximately three years later, that epiphany—that "YA authors no longer have to put on kid gloves"—made a difference. She decided to tell the story she'd conceived, about a teenage boy who has grown up watching his father physically abuse his mother—and who has now abused a young woman himself—as a present-tense first-person narrative for young adult readers. The resulting book, Split, was published by Knopf in 2010. Its straightforward, intense portrayal of domestic abuse, a topic often buried in silence, made waves in the field of young adult lit and racked up several accolades, including a highly competitive bloggers' choice Cybils award and a New Voices pick from the Association of Booksellers for Children.
Born in India and raised in Albuquerque, Avasthi was certain from ages five to 15 that she wanted to become a writer. But after she watched her sister graduate from college and enter the working world, she decided that she could never make enough money writing and needed to carve out a different professional niche. At UChicago, she majored in humanities with a focus on theater and then took a job in production at Victory Gardens Theater for a year before switching to law.
Avasthi began a three-year stint with Pro Bono Advocates in Cook County as a paralegal and coordinator of the domestic violence clinic, where she assisted abuse victims in securing emergency orders of protection in civil court. In 1997 she and her husband, John Yopp, AB'91, moved to Minnesota, where Avasthi, wanting to work in domestic violence criminal prosecution, enrolled at the University of Minnesota Law School. She planned to earn her law degree while starting a family: "My mom's a physician and she had three kids and was capable of it, so I figured I would be too. And then I had my son and said, 'You know, this isn't working for me.'"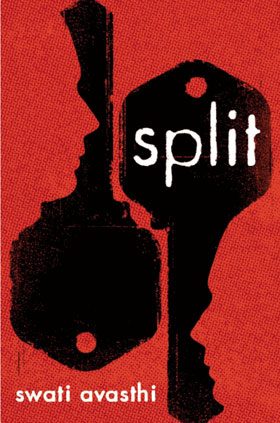 Avasthi took a two-year leave of absence, then left law school officially in 2000 to stay at home with her children (her daughter was born in 2001). Remembering that financial concerns had led her away from a writing career, she realized, 'I'm at home and not making money anyway, so this is a perfect time for me to write.' She took writing courses at the Loft Literary Center in Minneapolis and secured a spot in the Loft Mentor Series program in 2006, where she worked with YA author Pete Hautman and novelist and playwright Shay Youngblood before beginning work toward an MFA at the University of Minnesota. She finished Split in 2008, at the end of her first year.
The novel follows its protagonist, Jace Witherspoon, after he is kicked out of his family home in River Forest, Illinois, for confronting his father about the latter's relentless physical abuse of his mother. Jace appears, bloodied and bruised from the fight, at the doorstep of his 22-year-old brother Christian, who left home five years earlier and has lived in several places, including Hyde Park, before settling in Albuquerque. As the brothers reunite and plan their mother's escape, they reveal mutual distrust and resentment—tension that reaches a peak when Jace admits to having punched and half strangled his girlfriend back home.
Split was inspired by Avasthi's experiences at the domestic abuse clinic, especially an incident involving a mother who came in with her two young children, a boy and a girl. "She was telling me what had happened while her kids were there," says Avasthi. "As the story got increasingly violent, I asked if she'd like an intern to look after her kids. She responded, 'No, they've seen it anyway.' I felt for this little boy who was caught in a cycle that had nothing to do with him, who was growing up watching his dad beat his mother."
That same week, she read a statistic that 70 percent of men in court-ordered treatment for domestic violence say they witnessed abuse as a child. She wondered about the intergenerational effects of abuse: What would make one child repeat the cycle while their sibling escaped it? Avasthi found a means of exploring those questions in Split and the characters of Jace and Christian.
Working most closely with poet and novelist Mary Logue—who taught her at Hamline University in 2006 and later at Minnesota—Avasthi revised Split eight times before submitting it to agents. "I feel like a story reveals itself to me as I rewrite it," says Avasthi. "One thing that is generally true for fiction writers is that we know a lot more about that world than ends up in the book. But I think that adds a sense of fullness to the setting and to the characters. That is to say, I don't think it's wasted work."
Once Avasthi finished, things moved swiftly. She received a "yes" from the first agent she queried, Rosemary Stimola, then held her breath as Stimola put the manuscript up for auction, since more than one publisher wanted it. Avasthi is currently at work on a second YA novel, also for Knopf.
Avasthi is happy with the positive critical reaction to Split and honored by the multiple awards, but she's most moved by the e-mails she's received from readers. They include abuse victims who say her portrayal is accurate and men and women who say that the book has inspired them to rethink their behavior: "That's an amazing response."