Editor's Note
The Secret History of
Betty Co-Ed
Marion Simon, AB'39, two-time winner of campus beauty contests.
Images courtesy of Marion Simon
I thought my article was done. I had spent days in Special Collections, flipping through yearbooks and bound volumes of the Maroon—all unindexed—trying to piece together the history of beauty contests at UChicago. As improbable as it seems, in the 1930s and 1940s there was not one beauty contest, I discovered, but often four or more a year: Freshman Beauty Queen, Homecoming Queen, Intra-Fraternity Ball Queen, Campus Dream Girl.
Then Marion Simon, AB'39, phoned our office. At 92, she had decided to write a memoir. Did we know she had been Miss University of Chicago in 1939? We did not.
In fact, Simon (née Elisberg) had won two beauty contests. "In my junior year I was walking across campus, and one of my friends said, 'Hey Marion, how'd you like to be Betty Co-Ed?'" The contest was named after the popular song. "I said, 'Sure' and kept walking," she says.
"Evidently, three of the fraternities—the Alpha Delts, the Dekes, and the ZBTs—decided they were going to spoil it. So they stuffed the ballot boxes with my name. All of a sudden, there I was, Betty Co-Ed, Homecoming Queen of the Ohio State game. When my father bought the evening newspaper, he found me on the front page."
Simon was introduced on the field and interviewed on the radio. "It was such a beautiful day," she says. "Somebody had given me a chrysanthemum. And I thought, remember this, and even now, I can bring it back any time I want to." (Chicago lost the game 39–0.)
The following year was even more exciting. The Elgin Watch Company decided to choose a beauty queen from each of the Big Ten universities to work at its exhibit (pictured above) at the 1939 World's Fair in New York. Some of the Chicago contestants were nominated by the women's clubs, others—including Simon—by the Blackfriars comedy troupe. The winner would be selected by Bob Crosby and his orchestra at the Blackhawk, a popular downtown night spot. "My parents had so much confidence in me, they said, 'Don't go. You're not one of the tall, gorgeous girls. Why should you go and be upset?'"
So Simon went to an engagement party—but it was over at nine o'clock. She asked her date if he would like to stop by the Blackhawk. The next thing she knew, says Simon, "I was standing in the middle of the dance floor under the klieg lights, being questioned. And honestly, honey, if I live to be 112, I have no recollection of what they asked me." But at the end, "I had three dozen American Beauty roses and a job." And if she hadn't phoned, we would never have known.
This issue of the Core includes other glimpses of forgotten history, such as Gertrude Stein's stint teaching grammar in the College and the family origins of Scav Hunt.
There must be more. If you have some forgotten University history you would like to share, please e-mail me at cgolus@uchicago.edu.
Let's remember this.—Carrie Golus, AB'91, AM'93, associate editor
1 of 16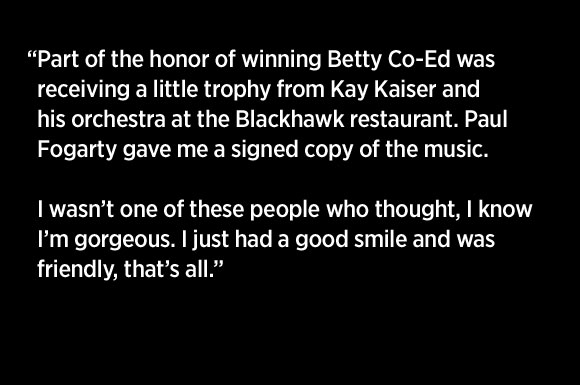 2 of 16
3 of 16
4 of 16
5 of 16
6 of 16
7 of 16
8 of 16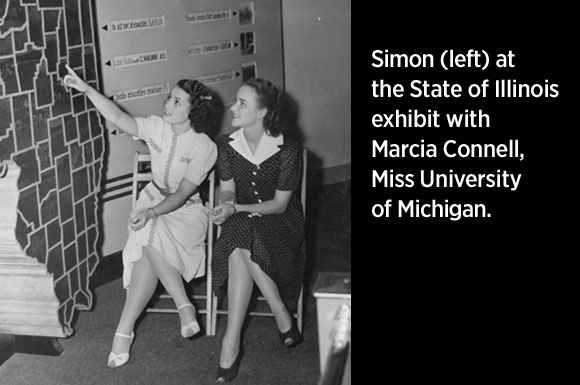 9 of 16
10 of 16
11 of 16
12 of 16
13 of 16
14 of 16
15 of 16
16 of 16