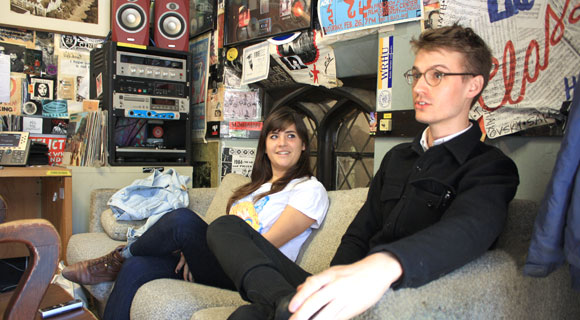 Eye on the Quads
RSO Spotlight: WHPK
At UChicago's radio station, the golden age of vinyl is today.
By Carrie Golus, AB'91, AM'93 | Photography by Aaron Opie
There must be something weird happening up that narrow staircase in the Reynolds Club. It leads across a bridge, into a tower and—for the uninitiated—ends at locked doors.
And there is something weird. Depending on the hour, you might hear the screech of death metal. Or the hum of medieval chant. Or science news, sports talk, early blues, girl groups, house, dusties, or rockabilly. And if it's recorded music, you will almost certainly hear it on vinyl.
How does WHPK fit into a digital world, where anyone can design their own personal radio station? In WHPK's cramped office—wallpapered three-deep with decades of posters—station manager Sophia Posnock, '12, and program manager Eric Hanss, AB'11, explain the station's continued allure.
Why did you join WHPK?
Hanss: I wanted to DJ music that I thought was underrepresented, even in college radio. The music I'm interested in is incredibly fringe—the crossover between free jazz, avant-garde, and noise, and also new age synthesizer music.
Posnock: My roommate was a station manager when I was a freshman, and she was always getting free concert tickets.
Did you both start with shows at insane hours?
Posnock: Yes, 4 to 6 a.m. I lived in the Shoreland, so it was a long walk. Everyone starts that way, so it's not like you're the only one who has to do this terrible thing.
It's fun. You can play anything. I had friends who were on the West Coast or the East Coast who would listen to it on the Internet, so they could catch my show at a more reasonable hour.
Hanss: And you get crazy calls.
Posnock: Because people are really drunk at that hour, it turns out.
When so much music is available through Pandora radio and other Internet sites, is there still a need for college radio?
Posnock: We exist to play things that aren't played elsewhere. Every show is totally different. The way Pandora works is by playing music that sounds exactly like the music you already know. This is the opposite.
How many listeners does WHPK have?
Hanss: We have no way of knowing.
Posnock: It's hard to even guess, because people listen on the Internet.
Do record companies still send you free records in the mail?
Hanss: Oh, yeah. We'll probably get five LPs a week and 200 CDs.
Do you accept other formats?
Hanss: We don't deal with MP3. We're not into it. We receive such a high volume of e-mail that we're not going to burn somebody's CD. Also, our DJs have such a preference for vinyl, they don't care about MP3.
Posnock: I don't think I've played a new CD in a year.
Hanss: When our music directors buy new music for the station, it's strictly vinyl. They really don't see the point of buying anything on CD.
Did WHPK ever go through a CD/MP3 phase?
Hanss: There is capability to play MP3s. We make it hard for people to figure out how to do it.
Posnock: We want DJs to hand pick their tracks and make playlists. We don't want people to put their iTunes on shuffle. Maintaining a stronghold on vinyl is a way of having a link to this golden age that we're trying to preserve and remember.
Hanss: It's a golden age that continues.
The library looks pretty full. Is there any extra storage for your record collection?
Hanss: We have storage in the basement. It's kind of a graveyard, to be honest.
Posnock: We have access to it, just no one ever goes there.
Hanss: We've been phasing out a lot of the major label stuff, the stuff that's noncanonical. The disco is long gone. The really bad Yes records. Fringe indie rock is definitely something that we hang onto—we have a priceless collection, actually.
Is working at WHPK anything like the movie High Fidelity?
Posnock: Here it's friendly hazing.
Hanss: I wouldn't use that last word, but …
Posnock: It's all about getting a rock education.