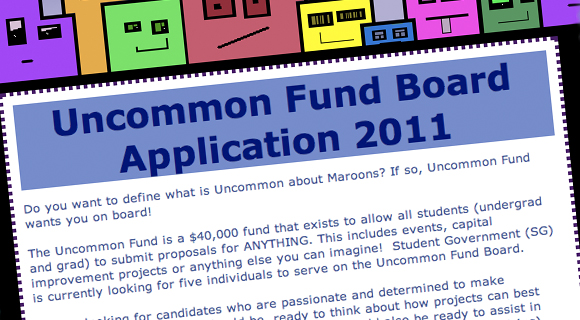 Marginalia
Uncommon, Indeed
Ask and ye shall receive—especially if you need money for a business venture, an arts event, or a giant water-balloon fight on the Midway.
Each year, students submit proposals for any idea to the UnCommon Fund; they have 15 minutes to convince a Student Government board that their project deserves some portion of the $40,000 fund. A record 25 projects snagged awards this year, including:
START-UP WEEKEND
A 54-hour conference to incubate new business ideas.
INTRAMURAL QUIDDITCH
The Harry Potter generation brings a fictional team sport to life.
OSCILLATION
A weeklong alternate reality game played on campus.
PUPPIES AND KITTENS ON THE QUADS
Because everyone needs a soft, fuzzy friend during finals week.
(((SOUNDWAVE))) COLLECTIVE
Student musicians and collaborative live looping.
JOY OF SCIENCE
An event to revive the experiments of youth—Diet Coke and Mentos, anyone?
BARISTA CHAMPIONSHIPS
Learn to brew coffee, just in case that banking job doesn't work out.