Seen and heard
Army of one
Sarah Starr, Class of 2017 (mathematics and political science), is UChicago's only undergrad in the Army Reserve.
Carrie Golus, AB'91, AM'93 | @carriegolus
---
Interview has been edited and adapted.
How did you end up in the Army?
I went to Evanston Township High School. They were giving the Armed Service Vocational Aptitude Battery (ASVAB) exam at school. I was like, hey, I'm a second semester senior, I want to ditch class. And then I was enlisted a week later.
Are you very patriotic? Do you come from a military family?
No. It was kind of a strange choice. I enlisted and then told my parents: "Hey, I joined the Army!" The way Evanston works, a lot of people will go into the military, and a lot of people will go to the University of Chicago, Harvard, Stanford, Yale. But those populations are very distinct and disjoint.
My twin sister and I have always been super independent. We're identical. She went to Rochester Institute of Technology, and now she works at MoMA in New York.
Had you planned to go to college?
I had already gotten into UChicago and some other schools. I wanted to take a gap year but didn't have money to travel.
Anyone who could get into UChicago could blow the ASVAB out of the water. I think every job in the Army was open to me except auto mechanic. I bombed that section.
What was basic training like?
I shipped in October to Fort Jackson, South Carolina. They call it Action Jackson or Relaxin' Jackson. There's a drill sergeant yelling at you 24/7. I didn't even know how to do a salute.
It's very much: do not think, just execute. It ended up being one of the most amazing things in my life for sure.
Had you ever held a gun before?
No. The first time I shot a gun was in basic. There was this girl who couldn't shoot. She cried and had to go home—she was just scared. A lot of people get kicked out of basic.
So now you're at UChicago and you're in ROTC.
In the military, there's the enlisted ladder and the officer ladder. ROTC makes the switch happen.
The reason I wanted to be an officer is I think I could be a really good one. I'm competent and smart. I have a great sense of logistics. Those are qualities that unfortunately not enough officers have.
The Army is actually downsizing. We don't need just every cadet and every officer, we need the best ones. I think University of Chicago will have some of those best ones.
How fit do you have to be?
The standards for females for push-ups are 19 to pass and 46 to max. You have two minutes. So I just do 46 and max out. For sit-ups, 53 to pass, 80-something to max. I usually get 50 in the first minute, and then I start to get tired. The run is my worst event. You need to do two miles in 18:30, so like a nine-minute mile. To max you need 15-something.
And as well as physical training, you have weekend training.
Tomorrow I leave at 5:30 a.m. to go to Fort McCoy, Wisconsin. We're doing M4, which is rifle qualification, M9 handgun, and M249 automatic weapons. We might do a gas chamber and an HMMWV [high mobility multiwheeled vehicle] rollover drill.
So it's going to be a fun weekend.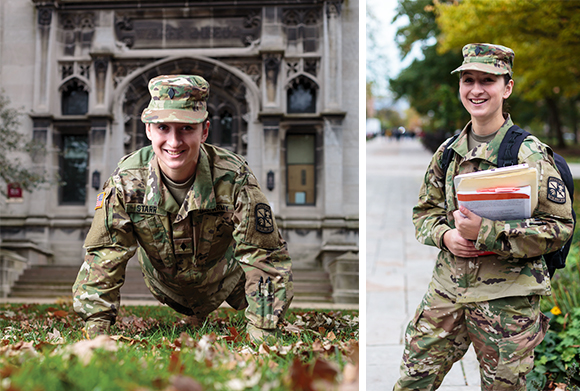 What are your plans after graduation?
Military intelligence. Geospatial intelligence might be my focus. I'm not really sure yet.
Is that why you're studying Arabic this year?
Definitely that played a role. Depending on the job that I get, they could send me to learn Arabic intensively for six months at the Defense Language Institute. That would be awesome.
Does the Army cover your tuition here?
Full tuition plus a stipend. Yeah, it's nice.
When you're wearing your uniform on campus, do you ever get any political criticism?
People don't hate soldiers. They hate maybe the institution. People have thanked me for my service here. Not as much as in the South though.
What do you do in your spare time, assuming you have any?
I work in the Admissions Office. I also do research at the Chicago Project on Security and Threats. Tae kwon do, kendo. I did chamber orchestra my first year—I play cello. I'm from a musical family. My mother was an opera singer at the Lyric.
I want to start swing dancing too. I don't want to leave college not knowing how to swing dance.
Do you like doing anything really girly?
I like dressing up sometimes, going out with my friends. I've never been into getting my nails done. My friends have tried to take me.
I do like getting massages when I can. I'm kind of tense. I'm really type A.